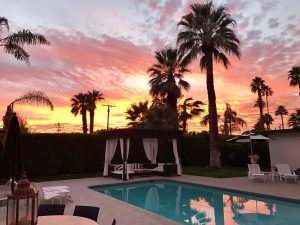 Palm Springs California a blistering 121º day and I'm making a beef stew.
So here's the scoop. It's getting close to our much needed vacation and I decided it was the perfect time to use up all our meat in the freezer and eat up whatever is in the fridge. That way I can give everything a good clean and start fresh on our return.
Bill, my husband, loves chicken and can't seem to resist buying it, especially if it's a good deal. So our freezer in the garage is stacked full of chicken — whole chicken for the spit, thighs, breasts and wings. So there is always a chicken dinner for unexpected guests. I will state here that it is organic. I like chicken too, just not so much.
This week started off with a hammer in my hand and "voila!" flattened chicken breasts in a salty, dry rub with crushed rosemary. I sliced some small Yukon gold potatoes, steamed them for a few minutes then tossed them is olive oil, garlic, Maldon sea salt and black pepper and laid them on the veggie tray along with the sliced yellow squash, red bell peppers and hot and sweet green chilies. Bill manned the bbq and grilled everything to damn-near perfection — a tasty summer repas in the sun with a nice glass of rosé and a crisp green salad.
There was nothing traditional about our on the 4th of July with Vindaloo chicken curry, scented basmati rice and a tomato and onion salad and some naan bread that Bill had made in the freezer. We raised our Taj Mahal beer in frosted glasses to all the immigrants of the country and gave thanks to the chicken.
P.S. Bill did sneak a couple of hot dogs on the bbq later that night with those white spongy buns.
Next day I fished some wild salmon out of the icebox for Wednesday's dinner, brushed it with a "titch" of olive oil, seasoned it with salt and pepper and a squeeze of fresh lemon, and Bill grilled it along with tender pencil thin asparagus I'd bought at the farmers' market. I boiled some baby spuds, tossed them in creamy butter with chopped parsley and a couple of scallions and we raised a nice glass of chilled Californian Pinot Grigio to the Alaskan fisherman who caught our dinner and counted our blessings.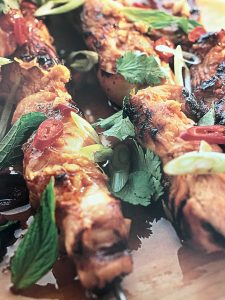 Thursday: chicken kebabs with grilled onions and sliced fresh golden beets that I steamed for 5 minutes and brushed with my secret marinade to be posted on a later date. Bill took off to LA for a couple of days for a photo shoot. I swam in the hot desert night communing with the silvery moon as the resident bats from the neighbor's palm trees flew down and said "bon nuit." Downton Abbey beckoned me indoors. Can you believe I had not seen this marvelous series? So it was a lovely evening all to myself and I cried my eyes out. At this stage there is no analysis into the falling of tears as they come and go these days. Before bed I poked my head into the freezer and with a glee of joy found a small package of stewing beef and popped it into the fridge to thaw. Ah! — a chicken-less dinner on the horizon.
Summer is here in the desert when the nights are as warm as the days and the pool reaches the 90º mark. Yesterday the temperature soared to 121º. Too hot to be outdoors for long. There I found myself making a hearty stew of beef in red wine that simmered for hours in the oven. I caught up on my french homework all afternoon with the kitchen smelling good and homey and enjoyed the succulent stew for dinner in the cool house.