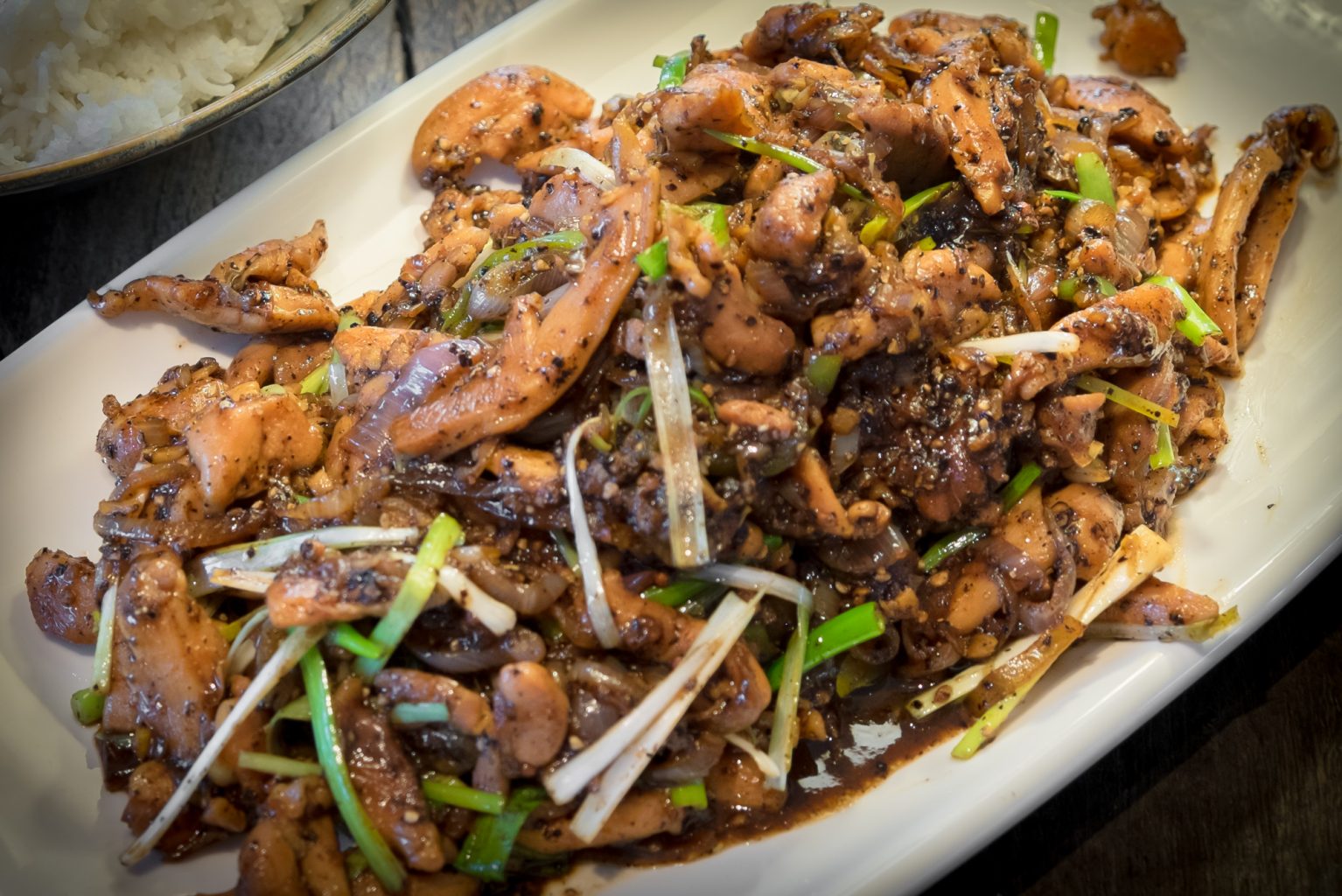 Best Black Pepper Chicken or Tofu.
The weather was unusual this past week with overcast skies and a sprinkling of rain. It will change when the sun put's its hat on. That's one thing we can be sure of living in the desert, the sun will shine the pool will get warm and for the next six months, swimming will be the main exercise and fun way to cool down.
I woke up this morning with spice on my mind and put the grocery list together for the Black Pepper Chicken, I plan on making for dinner. After last night's fish and chips, I needed something with a kick and who can resist a fiery dish that will rock your socks off and transport you perhaps on a slow boat to China. (My Father's song at parties) There you are, paddling the Yangtze or maybe strolling the bustling streets of China town in San Francisco, where the scent of five spice and star anise fill the air.
I remember those strange, funky aromas that I couldn't quite place, assault my nostrils — intriguing smells that spoke of the mixture of earthy medicinal herbs and teas. I wondered what those strange looking birds were, kept in cages. Were they to eat? I can't imagine plucking them. It would take forever.
I'm getting hungry remembering the pungent sweet and salty pork dish we had on that trip, and the dark bitter greens flash-fried in garlic with a drop of soy sauce. You know, I still can't eat with chop sticks. I don't know why. I can't get the hang of it. It's not for lack of trying. Does anyone else have the same problem? I can manage to get a tender morsel of meat into my mouth once in a while, but it's a fluke and rice is near impossible. My new mantra for 2016 is: "I will master the art of eating with chopsticks."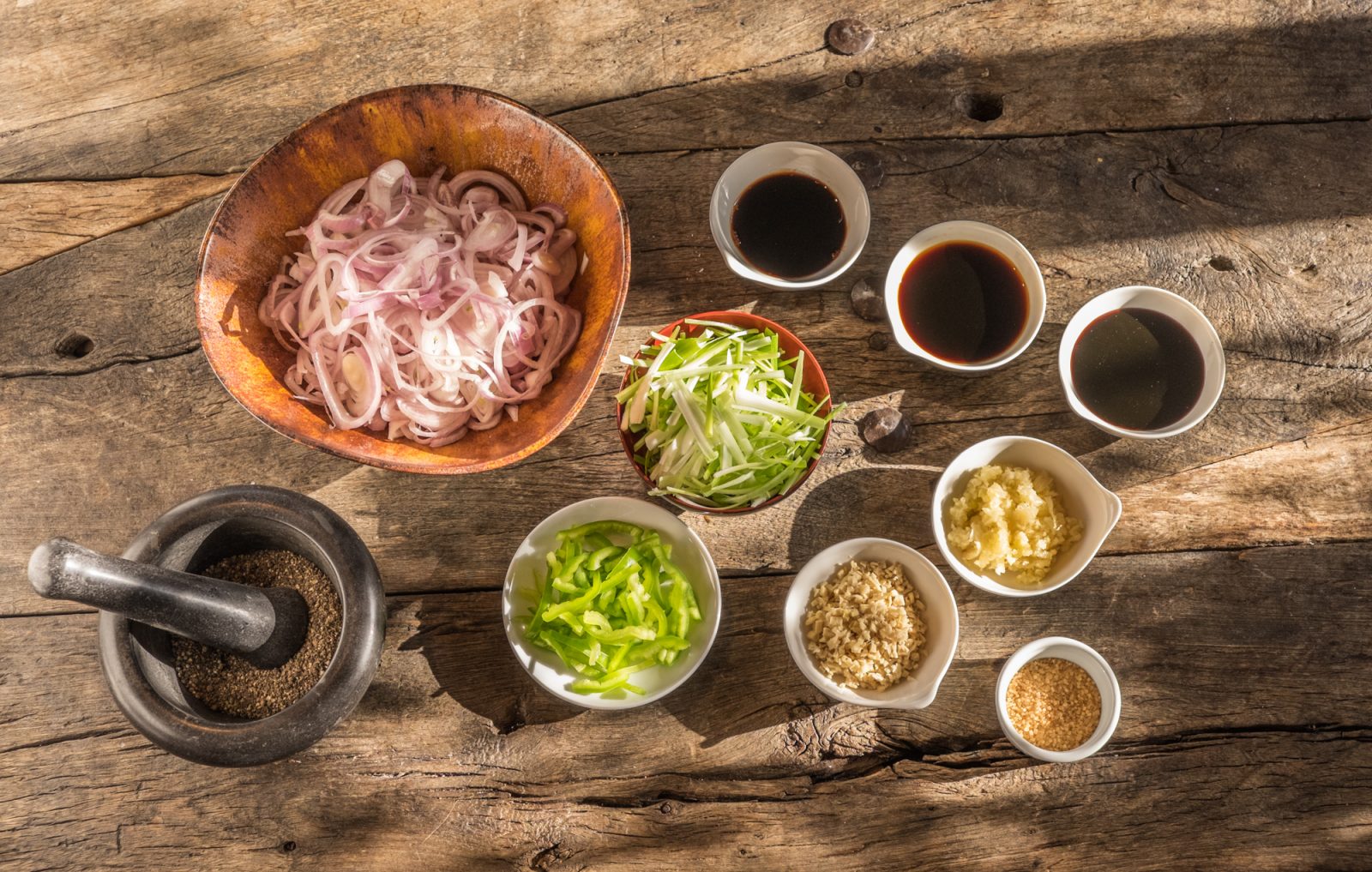 Bill loves all things spicy and cooking Thai food. It's his favorite food and he can eat it for breakfast.
He 'woks up' a storm at least once a week, cooking dishes with the heavenly scented Thai basil. The lemon grass, oyster sauce, fresh Thai chilies he usually buys at the small Asian market over near the Airport.
So tonight is Asian night and I'm wearing the apron, it will get hot around here for sure.
If you are vegetarian you can make this dish with tofu and I'm sure it will be a hit with you. I've tried it, but tofu is tofu no matter what you do with it in my experience. I would love to hear from you if you try the recipe or need help with anything.
This dish is perfect with rice, of course, but quinoa blends beautifully with the black pepper spice.
Best Black Pepper Chicken
Adapted from Plenty by Yotam Ottolenghi
Serves 4-6
4 teas dark soy sauce
3 Tbs sweet soy sauce
3 Tbs light soy sauce
12 crushed garlic cloves
8 fresh red medium heat chilies, thinly sliced or ( 1 Anaheim green chili will work )
3 Tbs chopped ginger
6 large shallots thinly sliced
3 Tbs butter
coconut oil for frying
1 3/4 pound organic chicken thighs cut into small strips
2 Tbs brown sugar
4 tbs coarsely crushed black peppercorns (I use a pestle and mortar)
1 bunch of cilantro
1 bunch of green onions /scallions, cut length ways into 1 1/4 inch pieces.
In a wok, or your largest pan, add 2 Tbs coconut oil
add chicken and brown quickly all over and cook a few minutes, then set aside and clean out pan.
Return pan to medium heat and add the butter
add shallots, chilies, garlic, and ginger
Saute for 15 minutes, stir occasionally until all the ingredients are soft and golden.
add the soy sauce and sugar and stir, then add the crushed pepper
add the chicken cook for a few minutes stirring frequently till chicken is done.
turn off heat and add the finely sliced green onions and stir them in