Best Berry Breakfast Smoothie
It still feels like summer here in Palm Springs although it's getting a tad cooler at night and early morning – enough to turn off the AC. The pool has chilled down to 72º – too chilly for Bill, but I get in and swim some laps. It's my favorite exercise.
I am not a great swimmer and rarely put my head in the water except to float but I made my first dive ever, this year.
I grew up in the south side of Dublin in Ireland, where we never had to worry about conserving water like we do here in the desert, because it pissed rain almost every day of the year and an umbrella or newspaper was something you had with you for the downpour that would surely come. And then of course there was always the pub to hop into out of the rain. A hot toddy did the trick to warm you up.
My Ma made a hot breakfast every morning before we headed out to school – steel-cut oatmeal with sugar and the skim from the top of the milk that was pure cream. Sometimes the black birds arrived before we brought the milk in from the front porch and they pecked the red foil top and drank a smidgen of cream on top of the milk.
Usually we had a good "fry up" of pork sausage, rashers (bacon) and fried eggs and a round of black and white pudding with crusty bread slathered in creamy yellow butter.
I was California dreaming from an early age and being a sun worshiper, the idea of living in the sunshine and swimming in a sparkling blue pool in a house with no stairs was my dream and became my destiny.
I wish that my mother and father (Joe and Essie) were alive today. They would have loved our home and I can just see them laying out by the pool all suntanned with a cocktail in their hand. My mother would have thought my Best berry smoothie was desert and with her sweet tooth, slurped it down smiling.
So here I am now living the dream and feeling blessed. It was not always like this. I've come a long way and lived a few lives since I landed on the Gold Coast all those years ago.
Best Berry Breakfast Smoothie is refreshing, creamy and delicious. In my Vitamix, I put a cup or so of Zico coconut water and add a scoop of whey protein powder for my man, 2 cup of a mix of local strawberries and raspberries, throw in a couple of mint leaves, a handful of ice and a handful of blueberries. It's a glass of goodness to start the day and keep you satisfied till lunch.
I took this photo at the farmers market in Aix de Provence where the strawberries tasted like summer in your mouth, as sweet as can be.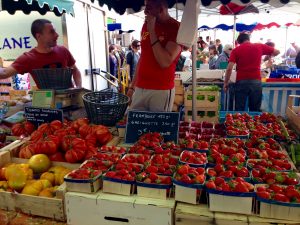 Has anyone got a favorite smoothie recipe to share? I love to try new spins with different ingredients.