What I Should Have Known
What I should have known when I saw the image of the toilet in the cabin was, don't even think about it Louise, keep on searching… but no, I didn't listen to my gut feeling, my intuition. I went ahead and booked the cozy cabin in the pines with the noted, steep driveway and the promise of nature and trees and romance by a wood fire for my birthday. After all, it was just for one night. How hard could it be to use a compost toilet that the owners had christened "The Hog?"
At home the morning of my birthday, Bill woke up early and slipped out of bed. I heard the sound of a man on a mission in the kitchen. He opened the fridge, ignited the oven and the steady sound of him grating carrots reached my ears. He was making his healthy carrot bran muffins, no doubt, and I could smell coffee.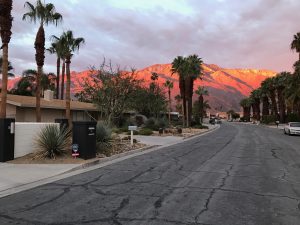 I lay there in bed and watched the mountain top blush in the rising sun, such beauty to behold and witness every day. A blessing duly noted.
I glanced in the mirrored wardrobe facing the bed and thought, who are you, how did you get here? Without my glasses the older woman looking back at me was a blur. Thank the Lord.
It's been a year since I've seen my son Jacob in person and it pains me. He's finding his way in NY. We talk and text but its not the same. I miss him and wish he could pop over to us for a Sunday roast chicken. He feels the same way. He will be coming home for Christmas and we are going to hang out for eight days and catch up. I guess I miss family, with both my parents gone and my siblings far away in Ireland, I feel lonely sometimes. It is quiet here in our beautiful oasis in the desert.
Bill rescued me from my moody thoughts and handed me coffee and a muffin and gently kissed my lips and wished me a happy birthday. We gave ourselves 30 minutes to read the news before we left for the mountains.
I threw some clothes into a Trader Joe's canvas bag and Bill neatly packed his mountain clothes – a plaid shirt, vest, beanie, sweater and hiking boots. We hit the road mid-morning with our water bottles and drove the back way from Palm Desert and stopped for a hike on the Pacific Crest Trail head. It felt good to be moving my body and my energy shifted. With a spring in my step I did my Sherpa thing and led the way. Ah! the great outdoors. There is nothing like it. I felt my breath and inhaled the scent of cottonwood and sage, and we walked in comfortable sunny silence.
After passing a sign with "bear warning" (a sign that Bill missed) and advice on keeping all food in storage containers, I wondered as I scanned the area, 'What if a bear did cross our path? What is one supposed to do?' My mind reeled movies like Legends of the Fall with Brad Pitt. He battled a mean fight with a huge black bear and died a bloody death and transformed into a great bear spirit. Then Leonardo DiCaprio in that epic grueling film The Revenant where he fought a giant bear for his life with hand and fist and was torn and clawed apart rolling around in the freezing blood soaked snow. He actually survived the attack and ended up slitting the dead animal down the middle and gutting the bear clean. He slept inside its carcass over night saving his own life.
My imagination caught hold of me and I thought, 'would we run like the wind back down the trail or run through the brush, or find a rock to throw and scare it away? Dare I break our promise and Google on the sly?' I happened to have my phone in my backpack.
Well at least we hadn't got any food with us, or so I thought. Forty minutes went by in outer silence and inner turmoil. Bill suggested a rest on some giant rocks ahead.
I took my pack off and went to take a pee behind the bush. When I got back, there was Bill with his camping knife in hand, slicing a large juicy peach."Good god! Are you mad?" I said. "Are you not afraid of the bears? Did you not see the sign?" "What sign?" he asked. He calmly handed me some peach and a napkin and I duly ate it. He cleaned his knife returned it to its holder on his belt and we briskly trotted back down the trail passing the bear sign.
We followed the GPS and finally arrived at the top of the hill of our destination. The driveway down to the cabin looked daunting as it was extremely steep and it proved to be dam near impossible to get down and take the hard left turn at the end. Bill had to drive down then up the other side and back the car into the cabin. The cabin itself was charming with a small front porch and a view of trees. The air was fresh with the smell of pine. A grey squirrel darted in front of us and climbed a tree.
The cabin was tastefully decorated with vintage signage and paintings and Idyllwild postcards of the past. It was manly yet had a woman's touch. The wooden bed looked comfortable with copious cushions, pillows and blankets in plaid and check.Two nightstands were at each side of the bed with lamps and flash-lights.The log fire turned out to be electric but it heated up the room efficiently. Bill used the bathroom while I went to get my phone charger in the car.
When I returned he called me in to check out the toilet and show me how it worked. I froze at the door with my mouth open. Oh my god! The toilet was a big ugly contraption that topped off at 3ft high off the ground and vibrated with a buzzing sound. A step stool was placed in front of it so you had to step on it to reach the toilet seat. It was intimidating to say the least. Bill proceeded to show me how it worked. First you lift up the big lid. Then you pull out the crank from under the seat and crank it slowly clockwise three times to open up the hole (not an easy task) to do your business. I glanced in and thought I saw leeches or worms stuck to the side. Bill assured me it was not the case. After you are done you have to add a spade full of bio compost into the hole, pull the crank out again and turn it till the hole closes. If you crank it the wrong way your F%#@d and left with a foul smell that permeates the space. Thankfully that did not happen. My aversion to this hog of a toilet was intense and I was mindful of it. I wondered how I could avoid my usual nightly tinkles.
On our way out to dinner Bill could hardly get the car up the hill of the driveway. I hopped out to guide him around the turn, the car wheels were spinning and couldn't grip and kept rolling back toward the edge. It was nerve-wracking. Even Bill looked anxious. We made it up eventually. "I'm parking up here on our way back and we can walk down," he said. We headed into town and had an excellent steak dinner at the Gnome, by a cozy fireplace with a good bottle of cabernet.
The night air was cool and crisp and the stars illuminated our path as we headed down to the cabin by foot. Thanks to the wine my fear of the hog had somewhat subsided. I operated the mechanics of cranking and bravely climbed up onto the white throne and did my business. No clawing hand pulled me down the abyss. No leeches stuck to my bottom. I survived "The Hog" and lived to tell the tale. And if I've learned anything, it is to listen to my gut feeling.