Life without a kitchen.
In the wake of the shooting in Orlando and the murder of all those beautiful young beings, my Life without a kitchen this past week seems so unimportant, but I will finish this post and you can tune in or out. No worri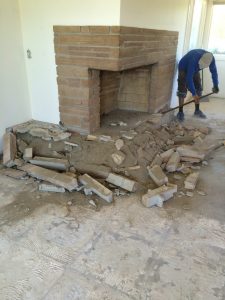 es.
We are living in our wee guest house/casita that has no stove — just a small fridge. I set up a chopping board, knives and the Vitamix to make our green juice in the mornings and the toaster oven to toast some crusty bread. Toasted crusty bread is good with sliced banana and a drizzle of honey. We've been eating a lot of sandwiches which is way more bread then usual, and I feel it on my body.
We eat out once a day, usually lunch or dinner, and sometimes I grill vegetables, fish or meat. Tonight I made a juicy peppered ribeye steak sandwich with creamy horseradish sauce, fresh watercress, caramelized onion relish and sliced heirloom tomato — perfect with a nice cold Stella by the pool.
The backyard looks like a junk yard, of course, with lots of stuff outside covered in tarps. "Beverly Hillbillies" in the desert.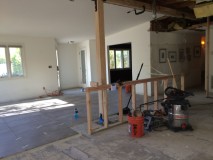 The tile is going in as I write and it's looking great. It opens up the room. The kitchen cabinets and our new Viking stove are being delivered next week. I'm excited thinking about cooking on it in the new kitchen.
Have you shopped for appliances lately? I cannot believe how expensive fridges are. We saw one the other day with a computer on the door. I can see the attraction but can you imagine being plugged into the fridge too? You can watch Netflix, listen to Pandora and with an phone app you can see what's in your fridge when you are in the market! It will tell you what you need, like eggs or milk. Brilliant idea, but the last thing I need is another device to check. Someday everyone will have one of those fridges. Does that mean companies can target you with products via your fridge?
We settled on a counter depth stainless steel refrigerator with french doors – tons of room, interior LED lights and it's apparently very quiet. Then I bought a stainless steel dishwasher thats supposed to be super quiet too. So appliance wise, we are good.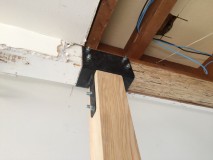 The big support post is in and most of the beam to support the roof. I love the raw wood with the big black bolts and iron casing. Now we have to choose a stain for the wood.
That's about it for today. I will post a few photos.
Have a good night, peace and love.
Louise