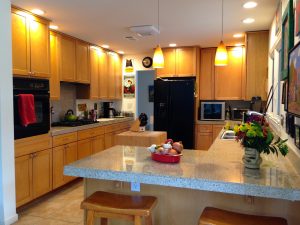 Kitchen Remodel Day 1
The image to the left is our old kitchen and the image below is happening now.
A jackhammer is plundering it's way through the awful beige tile that runs through the house. The noise is deafening but most welcome and my dream kitchen and new tile is happening. Yah!
We have a great contractor and crew and I feel confident the job will be done in a timely manner without too much fuss. We wont know if we need a supporting beam till they break down the wall that separates the kitchen into the living room. Thats what we want, one big open room with a sexy kitchen and long white quartz stone bar. I had to persuade Bill on the white counter top, he voiced concern of staining the stone with red wine or turmeric, but after a little research and personally rubbing turmeric into a sample piece of white quartz. He gave it the go ahead, the stain came clean with a little soft scrub. I'm sure baking soda would do the trick too. When it's done you will be able to see straight through to the pool and back yard oasis. And while we're cooking in the kitchen we can see everyone in the living and dining room.
We've chosen a large grey tile with an indigo hue and I think it will really open up the living space and hallway. The original fireplace is stone with an insipid pinkish sand and beige color that we don't like, so we are refacing the fireplace with a new stack stone that has shades of grey, black and plum. It ought to look striking, I sure hope it does. Bill is a designer and can see how things will look; he's great with color combinations and usually like's more muted earthy tones than I. When he worked on the kitchen plan he used a 3D program so he could show me exactly what it was going to look like from ever angle. The old cabinets were many and of good quality wood but were dated. Our main concern was whether we'd have enough storage space when we replaced them . Taking down the wall we lose wall space for art on one side and five top cabinets on the other. So lots of thought went into the placement design for the new cabinets.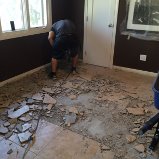 We are camped out in our guest house while the kitchen remodel work is taking place. It's fun playing house in a small space, a novelty for the moment. Gotta go now to pick something up for lunch, the Italian deli is close by and I'll get some fresh crusty bread, a nice hard salami some Italian ham, cheese and olives.
Tonight it's Dish restaurant on Palm Caynon for the 2 for 1 burger happy hour.
let me post a few photos for you to see whats going on.