Exceptional Irish Apple Pie
As soon as the torrential rain storm hit Palm Springs the other day I made a mad dash out to the back yard to gather the couch cushions and pillows and put them in the garage to stay dry. It lashed out of the heavens, a complete blurry slant of precious rain fell. I could feel nature responding. The dry parched grass sprung to life and the palm fronds fluttered gayly and swayed with open hearts. Birds sheltered in the mesquite as I danced in the delicious rain.
Lightening flashed and thunder roared with passion through the purplish grey clouds, and Bill, my darling husband asked earnestly "Lou will you make an apple pie?" I thought yes, sure its a perfect day for my Irish apple pie and being forced to stay indoors is a rare and homey thing. A hot toddy wouldn't go amiss either. Exceptional Irish Apple Pie came to me as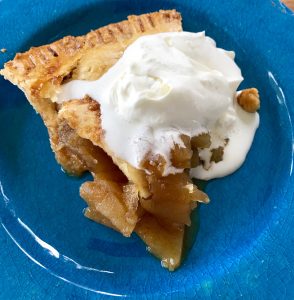 I closed my eyes and conjured up a warm golden crusted pie filled with organic granny smith apples, brown sugar, a few cloves a touch of cinnamon and a hint of nutmeg. In no time at all the kitchen smelled of sweet spice and the baked apples. Bill worked quietly with the odd swear while putting the Ikea media cabinets together, and occasionally he slipped a peek into the oven. When the pie was ready I sliced it and whipped up some rich heavy cream. I handed Bill his piece on a plate with a fork and mine with a spoon. That first bite tasted like the comfort of home, a warm snuggle, an open hug, a cinnamon kiss, a sweet whisper from a lover's lips.
Bill looked at me, eyes open in pleasure and asked, "Are you married?"
What you need for pastry
350g / 12 1/2 oz all purpose flour
175 g / 6 1/4 oz chilled butter cut in pieces
pinch of salt
2 teasp fine sugar
6 Tbsp ice cold water
For the filling you will need
1 1/2 pound of apples peeled cored and sliced
6 oz soft brown sugar
1/2 teasp cinnamon
1/2 teasp nutmeg
4 whole cloves
finely grated rind and juice of 1/2 a lemon
1 egg for glazing pie
Pre-heat oven to 450º
grease the pie dish
In a food processor
add flour salt and sugar stir to mix
add the butter and stir till mixture resembles bread crumbs
add the water and mix till it all comes together
turn onto a lightly floured board and form into a ball
cut in half and wrap one half in saran wrap and pop into the fridge, roll out the other half and line the greased pie dish then cover it with saran wrap and put in fridge for 30 mins.
In the meantime
peel core and slice the apples and put into a large bowl with the lemon juice
lemon zest, cinnamon, nutmeg cloves and brown sugar and stir well.
pile apple mixture into the chilled pastry case.
roll out the other half of pastry and cover the pie. piercing a hole in the center for steam to escape. decorate pie with extra scrap pastry if you wish.
brush the beaten egg over the pie and sprinkle with brown sugar.
pop into the 450ºoven for 15 minutes
turn heat down to 350º and bake for another 30 or so.
cool pie and serve with fresh cream or ice cream