Eggplant, the purple mistress of complexity.
Is there anything as comforting as roasted eggplant? Baba Ghanoush is a weekly staple in our house and I keep it simple for the most part, but occasionally I bedeck the purple jewel in Pomegranate seeds that dance in the mouth.
Getting a nice burn on the skin of the eggplant before roasting gives it a depth of flavor. I enjoy hand mashing the soft silky flesh and I sprinkle it generously with Maldon sea salt with a few grinds of pepper. Then I add a 1/4 cup of good Tahini, about 1/2 cup of fresh lemon juice and a couple of crushed garlic cloves. Give it a stir and serve it on an interesting flat plate or shallow bowl. Then drizzle with olive oil. For garnish you can add a sprinkle of ground cumin and chopped parsley or toasted pine nuts.
Eggplant, the purple mistress of complexity, another side dish to live for.
Last night two of my husband's oldest and dearest friends from Chicago came to visit. The beauty of partnership in a relationship is that the spouse or partner (me) gets to inherit the dear friends too, and in this case a very positive blessing.
Bill made his infamous spinach pie with delicate crisp filo pastry for starters. His recipe is included in my new cookbook that's in the works.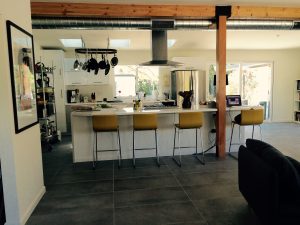 After a lovely afternoon of catching up on our lives while sitting in our fabulous, completed, remodeled kitchen,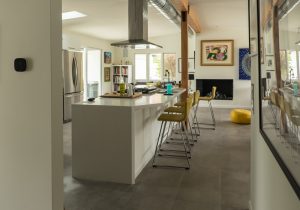 I prepared dinner and roasted and seasoned wedges of butternut squash drizzled in olive oil. Mysteriously, that squash refused to soften in the heat of the oven and took an age to roast. (I could have cooked a turkey dinner quicker)
Of course when it was done it tasted like Autumn itself, comforting. The side dish for the squash was the delectable eggplant, broiled on all sides till tender then scooped from the skin and mashed and seasoned with sea salt and black pepper. I added 2/3 cup of greek yogurt, 3 tbsp lemon juice 1 clove of crushed garlic plus 2 tbsp olive oil, and the co- star in this dish 1 1/2 tbsp (no more) in my opinion of Pomegranate molasses and a couple of tbsp of pomegranate seeds. Add chopped parsley and a match made in heaven is in your mouth, celebrating.
We sat outside under the stars and enjoyed the rest of the fare, a nutty faro dish studded with tiny cherry tomatoes, basil leaves, onion, diced peppers and fresh raisins that I bought at the farmers' market. The refreshing seed, popping-fresh pea, snow pea and haricot salad and the tasty bbq chicken thighs for the carnivores among us.
This morning they left for home and a feeling of gratitude and sadness filled my heart for these two beautiful people devoted to healing others every day of their lives. Oh how I wish they lived just down the road.
Baba Ganoush
1 large eggplant pricked all round with a sharp knife

1/4 cup tahini

1 or 2 cloves garlic crushed

1/4 cup fresh lemon juice or more if needed

1/4 teasp cumin seeds (optional)
chopped parsley for garnish
olive oil to drizzle
Maldon sea salt to taste
preheat oven to 375º
fire up the bbq and
Char the eggplant on all sides till skin blisters and blackens and it begins to soften about 10 mins or so. transfer to baking sheet and pop into the oven for 20 mins till its completely soft. allow to cool slightly than scoop out the flesh into a bowl.
Using a potato masher mash to a paste.
add the garlic, tahini, lemon juice, salt and cumin if using.
Mix well allow to cool and serve in a nice shallow dish, drizzle with olive oil and sprinkle with parsley.
NOTE: You can use a food processor for a smoother consistency if you prefer.